Travel Balance Presentation Titles

Travel Balance – 9 Secrets to Healthy Travel
This presentation will help you reduce stress, sleep better and stay energized while traveling for business so that you can perform at your best!  John will focus on natural/healthy choices that are easy and you can make on the road.
Don't be the AWOL Consultant
Employers spend millions each year sending their expert consultants to deliver onsite services.  Studies show that frequent business travelers are 20% less productive and 12% more stressed than their colleagues, costing their companies an average of $662 per traveler per trip.  John will share his tried and true stress relieving techniques that will enable you to stay mentally and physically prepared and maintain your focus to "Seal the Deal"!
You Can't Close the Deal if You're Sick in Bed
Sales people understand how important that first face-to-face impression can be.  Showing up to make your presentation goes right down the tubes if you are sneezing and sniffling.  John shares his proven methods for staying healthy on the road and at home.
Pearls of Wisdom
Are you burned out with your job? Are you beginning a new career in a new company?  This presentation is filled with life/work lessons and experiences that span over 30 years of John's career at IBM.  John will provide his wisdom regarding networking, sales success and achieving your business and professional goals.  PLUS, he will provide some of his best tips on staying energized, healthy and balanced based on his many years of traveling in the sales industry.
3 Keys to Successful Travel
1. Getting to your destination in a healthy manner
2. Optimizing your experience – both professionally and personally
3. Maintaining a balance of good health which results in business profitability
Do the stresses of travel sometimes deter you from being your best when traveling for business?  

Do you have fears or anxieties that get the better of you and the hassles of travel impact your success?

Travel Balance presentations will teach you how to stay energized, reduce travel stress, sleep better and stay balanced during your business (or pleasure) travel, by focusing on natural/healthy choices that you can make while on the road.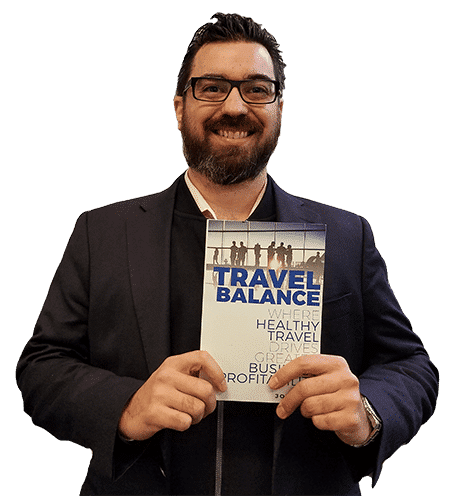 Get Travel Balance on Amazon
Showing business travelers how to stay healthy and productive, so you can perform at your very best!  
Translation: Increased health equals Increased profitability!
"Every business traveler needs this amazing book as the ultimate resource for maintaining good health on a consistent basis.  It should be required reading for everyone who travels globally for their business.  A definite MUST HAVE!"
~Dick Bruso International Speaker & Founder: Heard Above the Noise