Travel Can Be Dangerous To Your Health And Profits!
5.1
Million people travel for business
6.9
Productive hours lost per trip due to travel stress
20
Percentage loss in productivity due to traveling
654
Cost in $millions to U.S. business in missed work due to digestive issues
Why Hire John?
You are traveling for business for a reason, and if you can't perform at your best, it could cause you to lose the sale or impact the success of your event. What's that worth to you? …And your business or event?
Employee retention and employee engagement are two critical issues that companies are facing today. Could increased stress be a contributing factor?
What Makes John Unique?
John has traveled to more than 26 countries with IBM (sales and training) over 30 years (he's lived it) and is a Traditional Naturopath (natural health practitioner), meeting planner, consultant, and author. He has taught more than 4,000 people his actionable travel tips and stress management tools with rave reviews. There's more to it than just exercise and eating healthy.
What Can You Expect?
• Easy to work with/Very responsive
• Actionable outcomes for participants
• Highly interactive and engaging presentation
Book John For Your Next Event!
Poor Employee Health Costs Time, Money & Productivity
550
Cost in $billions due to lost productivity per year
Global Wellness Institute Report
75%
Employees stressed at work
American Psychological Association
200
Percentage cost of salary to replace an employee
Josh Bersin by Deloitte
87%
Employees disengaged at work
Gallup
Get Travel Balance Book on Amazon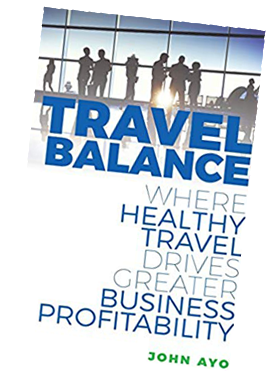 Showing business travelers how to stay healthy and productive, so you can perform at your very best!
Translation: Increased health equals Increased profitability!
"Every business traveler needs this amazing book as the ultimate resource for maintaining good health on a consistent basis. It should be required reading for everyone who travels globally for their business. A definite MUST HAVE!"
~Dick Bruso International Speaker & Founder: Heard Above the Noise